I am excited that I was able to give my podcast page a Brand New Look.
Decisive Podcast Series has a new face lift and I hope you like it. As we enter the holiday season with 2015 just around the corner. I wish you and your families the Very Best For Christmas. 2015 is dedicated to passion, music progression & production to better entertain the global Decisive Podcast Followers. Thanks For Your Support, Roberto Q. Ingram (Your Host). Check It Out Here.
Do me a favor and take a look and interact, your likes and feedback would be great!
→
My name is Roberto Q. Ingram from Los Angeles, living in Munich Germany. I wanted introduce myself to you as a music lover since 27 year as well as dj, producer/remixer.
I have been producing my by monthly podcast for Inspiration Network since mid 2009, in titled "Decisive Podcast Series", The series of mixes are conceived to give you an idea of how quality electronic music can open your mind and hopefully effect your emotions differently at any given time. The next episodes expands globally with music mixes by Roberto Q. Ingram and with carefully selected guest talent world wide. Two to three times per month depending on the work load in 2015. I hope you will listen and embrace the various artists and styles of music I feel to be significant.
listen & Interact! Give your comments about the my podcast, Like, Follow and spread the word.
I am excited about the results from people around the world that apparently enjoy the series of "Decisive Podcast Series Exclusive by Roberto Q. Ingram. I would like to know what you think? Thanks for your support.
Contact me:
contact@inspiration-network.com
robertoingram@aol.com
Facebook Music Page
facebook.com/pages/Roberto-Ingram/38329665774?ref=sgm
Website:
www.robertoingram.com
facebook.com/robertoingram
soundcloud.com/roberto-q-ingram
mixcloud.com/robertoingram
twitter.com/#!/robertoIngram
→
Hello Listeners, I am your host Roberto Ingram and I find it humbling that each artist I have reached out to do the work has been so positive and pleased to be a part of the Decisive podcast show. So in 2015, I will raise the bar to special international guest as well.
We could use your likes for Decisive Podcast Series Munich Resident Exclusive.
Today I am happy to invite to this episode of Decisive podcast Munich Exclusive #3, Benna(Harry Klein Resident) a warm hearted guy and a music lover to the core.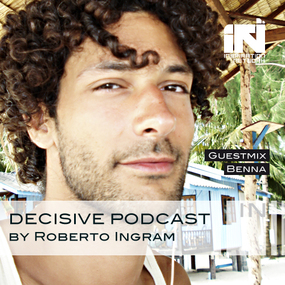 Interview in full
Born and raised?
Munich Motor City
 
When did you start djing?
About the age of 15 I bought my first dance music records and one Technic 1200 turntable, 2 years later I bought another turntable and a ECLER mixer.
Do you have another profession?
I worked as a Booker for Gigolo Records in 2004. Later I established my own agency. After 2 years of working successfully as a one man agency I joined forces with Harry Klein Club and Harry Klein Booking was born.
7 years later till this day we outsource the agency and renamed it Vice Versa Agency, where I still do logistics.
3 years ago I started working with kids as an educator at an after school care club I work there part time but this is my main profession.
Track list and why you chose the tracks?
I lock myself for hours on the weekend and do the mix for these series. I am not sure yet in which direction it will go now at the moment. I am curious myself

 
What Artist is an inspiration to you?
Lots of different artists from different genres inspiring me. I listen so many different styles of music that I could fill pages when I start writing down names. I always listen to the records I am buying and on my phone I listened the new Andy Stott album often, the new album from 2562 and Shabazz Palaces (which I saw live for the second time, 2 weeks ago in Munich).
 
Favorite label?
There are lots of labels I appreciate for their output so it`s impossible for me to say this or that is my favorite one. When we talk about buying music online I would say that Clone and Hardwax have a great pre-selection for my taste. And of course I spend a lot money at Discogs.
 
Favorite club you have played?
I think that a good party night (or day) rises and falls with the people on the dance floor. The first gig that comes to my mind right now when I think about breathtaking locations I´ve played at was a gig at the rooftop on the 60th or something floor in Panama City. Unfortunately the party itself was not that special as the location.    
 
Are you producing or any planned releases?
I still spend some time producing  but no release is planned.  
 
What do you think about the Munich Underground Club Scene?
Over the last 10 years we have got a lot of good clubs for electronic music. I leave the debate about underground up to you guys out there – I don`t care about that.
 
What is your primary source to play music (vinyl,digital,USB,cd)?
I still buy a lot of records and I love to play them. Unfortunately it`s often rather difficult to have proper running turntables and needles in the DJ Booth. Of course I also play music from USB-Stick or CD`s.
  
What can your fans expect to hear in your Dj sets?
Good music of course (in my opinion least). I guess the best word to describe it would be eclectic and of course it depends on playtime at the club or party.
Decisive podcast Track list:
01. Slim "Your Chair"
02. Jouem "Hyperion"
03. Frank & Tony "Companion"
04. John Daly "Move"
05. Ralph Lawson & Tuccillo "Lost in Dub"
06. North Lake "Marlborol Noir"
Miajica "Space-Future-Communication"
07. SDC "Angel Grove"
08. Crooked Man "Try Me"
09. Edward "Skating Beats"
10. John Swing "Funky Thoughts"
11. Tophat & Art Alfie "5:56 Tool"
12. Lo Shea "Home"
13. The Lost Kid "Southern Discomfort"
14. Bedouin "Indecision"
15. Losoul "Lies"
16. 2562 "Utopia'"